Class Schedule for 2017
Just Patchwork will be conducting classes throughout the year, to fit in with our participation in "Quilt and Craft Fairs", "Into Craft", "Craft Alive" and other major shows in Australia. We are also intending to exhibit at "Quiltcon" in Savannah, Georgia in February 2017, and at the "Festival of Quilts" in Birmingham UK in August.
The class schedule contains the popular "Sampler Class" for beginners, as well as "Stitchers Garden – Block of the Month".
The Stitchers Garden Classes E, F and G are continuations of the classes from 2016, whereas Classes H and J are new classes for Quilters to commence in 2017. The classes help you to understand the different features and accessories of your sewing machine, and in the process you create a wonderful quilt.
Create the beautiful Birdsville Cushion in a one day class, or Around the Garden quilt over 8 weeks, while learning the new Wool Felting Applique technique.
Machine Embroidery is becoming more popular, and with the availability of affordable Embroidery Machines, a class has been timetabled, where people can come together to share knowledge and ideas with each other.
If you would like to enrol in any of the classes, contact us on Ph: 02 65545824 or email at justpatchwork@tpg.com.au
Red Hat Days – FREE
If you hear raucous laughter from the classroom on a Monday, chances are the Red Hat Ladies are meeting! Everyone is welcome, but make sure you wear your red hat… purple clothes are optional but recommended for full effect.
The Red Hat Ladies/Sisterhood of Purple enjoy a free morning tea and a demonstration of a new or different patchwork and quilting technique. The benefits don't stop there – spend time with like minded locals and visitors, hear some new stories or jokes and best of all, receive 10% off all fabric purchases that morning if wearing your red hat. No booking or membership details required – just turn up on the day. All of the dates are listed below, so see you there!
Stitchers Garden Block of the Month
Cost: $40 per month
The Stitches Garden Block of the Month introduces you to new ways of using decorative stitches on your sewing machine. Over the 12 lessons you will be shown how to use different feet such as the open toe appliqué foot,edge foot, circular attachment, free motion couching foot, button foot, cording foot, pin-tuck, piping, fringe, candlewicking an chenille foot.
A choice of four different colour ways will be available for your quilt.They are pastel, sepia, silver/black an green/blue. Select which colour way you would like and the fabric pack will be available each month when you arrive at class.
The class is $40 per month for the lesson and fabric pack. You will nee to provide your own threads and fusible webbing. Classes for 2017 are listed below, with classes  H and J continuing  into 2018.
Class E        Saturday         10:00 am to 2:00 pm
4th February, 18th March, 1st April, 6th May, 3rd June, 1st July, 5th August, 16th September, 14th October,
Class F        Tuesday         10:00 am to 2:00 pm
14th March, 11th April, 16th May, 13th June, 11th July, 12th August, 15th September, 13th October, 17th November
Class G        Tuesday         10:00 am to 2:00 pm
7th February, 7th March, 4th April, 9th May, 6th June, 4th July
Class H        Thursday          10:00 am to 2:00 pm
16th March, 13th April, 15th Jun, 13th July, 21st September, 19th October, 16th November, 14th December
Class J        Saturday         10:00 am to 2:00 pm
2nd April, 4th Jun, 2nd July, 3rd September, 5th November, 3rd December
Sampler Class – Introduction to Patchwork
Cost: $100
Have you ever wanted to learn how to make a family heirloom that will be treasure for many years. In this class you will learn how to accurately cut with a rotary cutter and then piece the shapes together to the correct size of your blocks, Attaching borders, machine appliqué, curved piecing, piece borders, log cabin an traditional blocks are all taught during the course, The final two lessons are on machine quilting and the correct way to square up a quilt an a a binding.
The aim of the class is that at the completion of the 8 lessons, you should be able to read any pattern and make the project without difficulty. You will be working on your own sewing machine and learning new things you can do with your machine.
Classes are held once a month for 8 months, from 10:00 am to 1:00 pm.
Class A – Thursday
9th February, 9th March, 6th April, 11th May, 8th June, 6th July, 14th September, 12th October
Class B – Saturday
11th February, 11th March, 8th April, 13th May, 10th June, 8th July, 9th September, 11th November
WOOL FELT CLASSES
Around The Garden Wool Felt Quilt
Cost: $20.00 per class + Kit cost
Learn the Art of Wool Felting by completing this gorgeous quilt over 8 lessons. The Wendy William design uses 100% wool felt to Applique different object found around the garden, onto a linen background. With the addition of borders, it makes into a 64.5″ x 64.5″ (164 cm x 164 cm) quilt.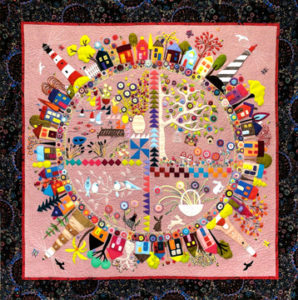 Around the Garden
Class A                Monday            10:00 am to 2:00 pm
13th March, 10th April, 15th May, 10th July, 11th September, 16th October, 13th November, 11th December
Class B                Saturday           10:00 am to 2:00 pm
22nd July, 30th September, 28th October, 4th November, 2nd December (this class will continue into 2018)
BIRDSVILLE CUSHION
Cost $20..0 per class + Kit cost
Saturday 29th April 10:00 am to 2:00 pm
This is a One Day class specializing in an Introduction to Wool Felting Applique. The class will involve completion of the Birdsville Cushion designed by Wendy Williams.
Wool felt techniques and stitches will be taught in the class.
Birdsville Cushion
MACHINE EMBROIDERY GROUP
Cost:  $10.00 per day
Our group has been formed to act as a network group to encourage machine embroiders to learn more about their machines and Digitizing software.
Friday 10:00 am to 2:00 pm
31st March, 21st April, 30th June, 21st July, 22nd September, 20th October, 24th November