Class Schedule for 2020
Due to Covid-19, Gai has had to postpone classes until it is safe to recommence. Just Patchwork has reopened on shortened hours on the 1st June 2020, and we will be recommencing classes after the June long weekend on Tuesday 9th June, 2020. With the cancellation or postponement of the Craft Shows, it has freed up a number of dates, allowing classes to be rescheduled.
The class schedule contains the popular "Sampler Class", which is an ideal class for beginners to learn the fundamentals of quilting, while completing their Sampler Quilt.
"Stitchers Garden – Block of the Month" is a great follow on from the Sampler quilt, or for the Intermediate Quilter wishing to make this beautiful quilt, while learning the different features and accessories available on your sewing machine.
Gai's new quilt called "Fruit Salad" is conducted as a Block of the Month and is built up from a number of blocks, which are made using different techniques such as piecing, applique,graphing and strip piecing. An ideal follow on from the Sampler or Stitchers Garden Classes.
Due to the popularity of the  Wool Felt classes in 2019, Gai will be offering a Felty Friday Class, where you can have fun experimenting with new stitches, as well as starting and working on a Wool Felt project. Have fun designing and completing projects, with handy helpers to assist where necessary.
Free Motion Quilting with Rulers is a class introduced to cater for quilters wishing to learn to quilt their own projects. Free Motion quilting enhances any quilt, and in this class you will use acrylic rulers to do perfect curves, feathers and leaves.
Dresden Plate Templates are extremely popular at the moment and Gai has included  classes on Dynamic Dresden, Funky Dresden and the Neighbourhood Quilt using these templates to produce some stunning results.
After our visit to the Western Country Quilt Show in Bristol last year, we have started to stock specialist Bosal products for Bag making, and Gai is looking at doing two day classes for the Poppins Bag and Camden Bag. Check them out in the classes write-up below.
The Class Schedule is now available for pick up in store, or on our website.
If you would like to enrol in any of the classes, contact us on Ph: 02 65545824 or email at justpatchwork@tpg.com.au
Red Hat Days – FREE
If you hear raucous laughter from the classroom on a Monday, chances are the Red Hat Ladies are meeting! Everyone is welcome, but make sure you wear your red hat… purple clothes are optional but recommended for full effect.
The Red Hat Ladies/Sisterhood of Purple enjoy a free morning tea and a demonstration of a new or different patchwork and quilting technique. The benefits don't stop there – spend time with like minded locals and visitors, hear some new stories or jokes and best of all, receive 10% off all fabric purchases that morning if wearing your red hat. No booking or membership details required – just turn up on the day. All of the dates are listed below, so see you there!
2020 Dates
Mondays           10:00am to  1:00pm
3 February         2 March            6 July            3 August           7 September        2 November     7 December
Stitchers Garden Block of the Month
Cost: $40 per month
The Stitches Garden Block of the Month introduces you to new ways of using decorative stitches on your sewing machine. Over the 12 lessons you will be shown how to use different feet such as the open toe appliqué foot, edge foot, circular attachment, free motion couching foot, button foot, cording foot, pin-tuck, piping, fringe, candle-wicking and chenille foot.
A choice of four different colour ways will be available for your quilt.They are pastel, sepia, silver/black an green/blue. Select which colour way you would like and the fabric pack will be available each month when you arrive at class.
The class is $40 per month for the lesson and fabric pack. You will nee to provide your own threads and fusible webbing. Classes for 2020 are listed below, with class L continuing from 2019, class  M commencing this year.
Class L        Thursday         10:00 am to 2:00 pm. (continuation from 2019)
6 February         1 June           9 July
Class  M       Monday          10:00 am to 2:00 pm (new class 2020)
10 Feb               9 March         15 Jun        13 Jul       14 Sep .     26 Oct   9 Nov       14 Dec
Sampler Class – Introduction to Patchwork
Cost: $110
Have you ever wanted to learn how to make a family heirloom that will be treasure for many years. In this class you will learn how to accurately cut with a rotary cutter and then piece the shapes together to the correct size of your blocks, Attaching borders, machine appliqué, curved piecing, piece borders, log cabin an traditional blocks are all taught during the course, The final two lessons are on machine quilting and the correct way to square up a quilt an a a binding.
The aim of the class is that at the completion of the 8 lessons, you should be able to read any pattern and make the project without difficulty.
You will be working on your own sewing machine and learning new things you can do with your machine.
Classes are held once a month for 8 months, from 10:00 am to 1:00 pm.
Class A – Thursday
18 Jun              16 Jul            3 Aug           24 Sep          22 Oct            19 Nov
FRUIT SALAD
Cost: $40.00 per month
This is a great quilt to follow on from the learning of the Sampler Class, Piecing, graphing English Paper piecing, Applique and Strip Piecing are all techniques taught in the construction of this beautiful quilt.
Classes are held once a month for 7 months, from 10:00 am to 4:00 pm
Tuesday
4 Feb             9 Jun        20 July         8 Sep          4 Aug          8 Sept          6 Oct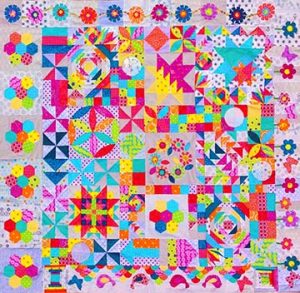 DYNAMIC DRESDEN
Two day Class
Cost: $60.00 
Class 2       Tuesday 22nd and Wednesday 23rd Sept 2020      10:00 am to 4:00 pm
Dynamic Dresden is a multi-technique class. Pre-quilt, learn a new binding method and then construct your Dresden's in a very unique way. Projects can be constructed in a multiple of sizes.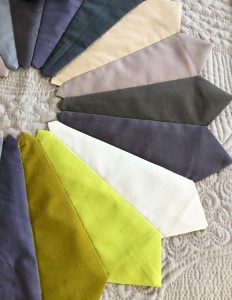 FUNKY DRESDEN
Two day Class
Cost: $60.00 
Class 1        Tuesday 14 th July and Wednesday 15th July 2020      10:00 am to 4:00 pm
Class 2       Tuesday 10th and Wednesday 11th Nov 2020        10:00 am to 4:00 pm
Funky Dresden is a technique class in which you will learn how to accurately piece one circle into another circle. A new construction method is used in the project.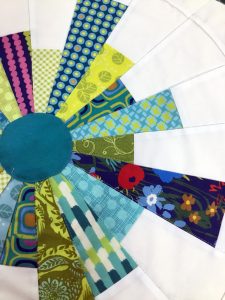 NEIGHBOURHOOD QUILT
One day Class
Cost: $30.00 
Thursday 3rd September 2020                 10:00 am to 4:00 pm
Neighbourhood Quilt is the most popular quilt on the internet at the moment. See how to use Dresden plate templates to construct Dresden Places. Make a them quilt ie seaside houses, Christmas house
POPPINS BAG
Two day Class
Cost: $60.00 
Class 1   Thursday 13th and Friday 14th February 2020     10:00 am to 4:00 pm
Class 2  Tuesday 25th and Wednesday 26th Aug 2020    10:00 am to 4:00 pm
Poppins Bag is a large zipper bag, great to store all those favourite things. It has pockets in the inside as well as on the outside to organise all those bits and pieces, as well as two wire stays to hold the bag open when loading.
Use a focus fabric and channel stitch the body of the bag, or stitch 2.5″strips and flip.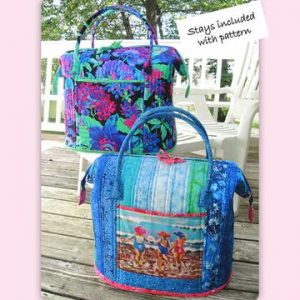 Poppins Bag
CAMDEN BAG
Two day Class
Cost: $60.00
Tuesday 28th and Thursday 29th July 2020         10:00 am to 4:00 pm
Camden Bag is constructed using  2.5″ strips of fabric (or Jelly Roll strips) and fusible batting strips. It is a beautiful zig-zag stitched bag with no shaping required. It is easily made from a rectangle for the sides and an oval for the bottom. Camden Bag can be made in the three different sizes, small, medium and large, and using Bosal new 25m rolls of Duet Fuse II and Camden Bag bottoms.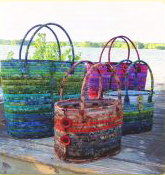 FELTY FRIDAY
Cost: $15.00 per day
Have fun with felt on a Friday. Learn new stitches, start a new project or problem solve design dilemmas. Come along and have fun with a wonderful form of Patchwork. Check out the wonderful effects you can get different stitches to embellish your projects.
Friday                                          10:00 am to 4:00  pm.
12 Jun           10 Jul             11 Sep           9 Oct            13 Nov          11 Dec
UFO CLASS
Cost: $15.00 
If you have any unfinished projects or want to start a new project, this is the day to be here, If you miss a Class in the Sampler Quilt or Block of the months, you can use this day to catch up.
To allow planning for the day, it is best to let me know you will be here and the project you would like to work on.
Fridays           10:00 am to 2:00 pm
28 Feb         26 Jun           31 Jul           28 Aug        25 Sep            27 Nov         18 Dec
Free Motion Machine Quilting With Rulers
Cost:  $30.00 per class + rulers
Class 1                  Dates TBA                 10:00 am to 2:00 pm
Free Motion Quilting enhances any quilt, and now with different designs of acrylic rulers to guide us into smooth curves, feathers and leaves. Quilting of large quilts has never been so easy.